Giving the gift of jewels or diamonds means making a profound statement about your love and affection for someone. Whether it's a necklace 'just because' or it's a beautiful engagement ring that they'll treasure for the rest of their lives, it pays to browse a huge selection of jewelry before making a purchase.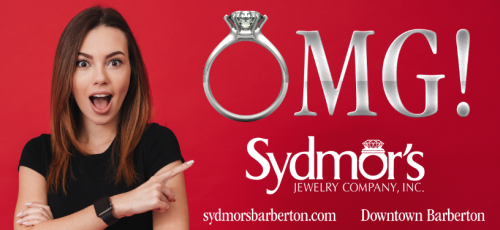 We have a large selection of loose diamonds graded by GIA, AGS, & EGL They are always available in all sizes & clarities. Use our BRIDAL RING CREATOR in the drop down box from this section to see our listing of certified diamonds and DISCOUNT prices.
We always consider trade-ins as well and are licensed to make confidential loans by the State of Ohio.
Our jewelry store offers the following jewelry services:
Ring sizing & prong repair
Chain Soldering
Design & Remount new Jewelry using your diamonds and gemstones or ours.
Sydmor's Jewelry and Loan welcomes you to our jewelry shop in Barberton, OH with one of the largest selections of jewelry and diamonds in the area. We're dedicated to bringing you the best selection of designer options in the way of:
Necklaces
Rings
Bracelets
Earrings
Loose gems
Engagement rings
Watches
Pendants
We're the jewelry shop you need to buy and sell your accessories, and we're proud of our reputation as a fine jewelry store in Barberton, OH.
Engagement rings
Perhaps the most important piece of jewelry you ever buy is an engagement ring. Finding the perfect one means browsing through a huge assortment of rings. We're pleased to be the destination engagement ring store in Barberton, OH, with a range of styles, diamonds of all cuts and price levels for any budget. Stop by our showroom when your hunt for the right ring begins and we'll help point you in the right direction.
Estate jewelry
Looking for a place that will deliver top dollar on estate jewelry? Don't just take your heirloom valuables to any diamond ring store in Barberton, Norton, Wadsworth, or Akon, OH—instead, bring them to Sydmor's Jewelry and Loan! We have a Master IJO Jeweler on-site to appraise jewelry and are Gemological Institute of America trained to properly valuate precious stones. We'll help you learn about the estate jewelry in your possession and offer you a fair, honest price for purchase.
Visit our jewelry store today to see for yourself the exceptional range of jewelry options, tools, and electronics we have in stock! Or, if you're looking to sell, make us your first destination for a true appraisal and fair price. Contact us today at 330-753-6812 to learn more.